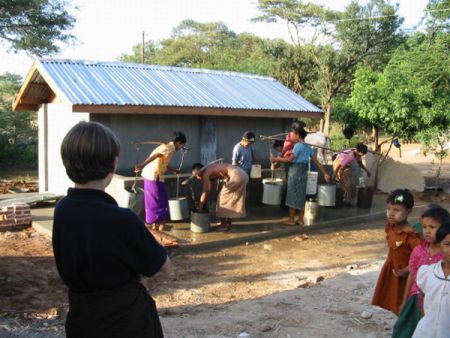 Tour operators and travel organizers:
You can use Generosity in Action to help people in destinations where you travel. Generosity in Action should be considered a conduit to allow your travelers' funds to be donated to a qualified 501(c)(3) charitable organization, receive confirmation of a charitable tax deduction, and yet have the funds be directed to a project that you organize.
The key word to letting this happen is ACCOUNTABILITY! GiA will be pleased to work with you to manage the flow of funds to any worthwhile project that you are sure will be completed. The major concern with many projects is that funds may be funneled off to individuals or "administration" that prevent completion of the project.. Assurance of completion is primary.
The following are some Freguently Asked Questions and responses that we hope will help you to better understand the benefits of GiA and, if you do support a project, to know what your responsibility is to ensure that a project is properly completed.
Purpose of Generosity in Action.
Do we have examples of projects that have come up in the past?
If I find a need in a country, what are the steps I should take?
How do I determine if a project is worthwhile?
Who are good sounding boards with whom to discuss whether the project is worthwhile?
I have a favorite project. Can I use Generosity in Action to support it?
How can travelers participate?
Is the traveler's donation tax-deductible?
What are the administrative costs to manage the projects?
How will the funds flow to the country?
What are my responsibilities if I take on a project?
Can I set up my own travelers' philanthropy program and work directly with Philanthropic Ventures Foundation?
Some further thoughts for your consideration.
Generosity in Action
Purpose: To provide an opportunity for participants to contribute directly to needy people, communities, nature reserves and schools that we visit during our travel programs.
Your task, if you accept the challenge, is to set up a mechanism for travelers to be able to support a need seen while on that trip. In some cases you can initiate and complete a project on the spot so that travelers can participate in the result. In other more complicated cases, you will have to set up controls that ensure that the project is completed and also find ways to assure the travelers that their contributions were properly spent.
There may be a small fund or seed money that will allow you to make commitments on the spot and then collect funds from the interested travelers during a program. They will feel that their funds went to that project while in fact their funds would "replace" the seed money.
[It is suggested that you do NOT consider it a priority to raise funds, ask travelers to donate, nor to create a project that isn't there. Generosity in Action works best when the enthusiasm is generated from within the group of travelers or as a part of the tour plan.]
Ideally the location of the project would be close (1/2 hour drive) to a place future groups are likely to visit. This provides an opportunity for a future group to double check that your project was completed and possibly be inspired to add a further contribution to that project. (return to top)
Do we have examples of projects that have come up in the past?
Check some of the examples found on this web site.
Tour operators will find the Bushtracks example of particular interest.
Lodges and in-country projectes will find the Robin Pope Safaries Kawanza School Project of interest.
(return to questions)
If I find a need in a country, what are the steps I should take?
Determine if it is worthwhile. Don't just jump at an idea, but make sure it is worth all the effort you will have to expend.
Do a quick assessment of the work needed to complete the project.
Consider, if you had the necessary funds in your hands, who would you give it to, and more important, are you 100% positive that the money would be used as you wished? Or are there a number of control issues you need to consider?
Collect the money needed for the project. Ask yourself these questions:

How will monies be collected? (To be tax-deductible funds must be collected by check made payable to "Generosity in Action" and processed through Philanthropic Ventures Foundation in Oakland, CA.)
How will monies be transferred to the end result "supplier"?
How do I control that the money goes ONLY to the right person and does not get funneled off to someone else? (return to top)
How do I determine if a project is worthwhile?
Ask yourself a number of questions:
Is this something that helps the local people whom our travelers are visiting?
Would you be happy defending the project to your boss and the IRS?
Is this something that has ecological benefit? Does it offer health/safety/educational value to the community?
Is the work effort/benefit ratio something that YOU want to take on. (You may be the one to have to follow through to see that other issues mentioned in this memo are handled.) (return to top)
Who are good sounding boards with whom to discuss whether the project is worthwhile?
Faculty leader on the trip.
Experienced travelers who have been on many previous trips.
The local guide, if he/she is someone whom you have used before and are likely to use again. (This latter point is important as the guide may be your control and implementation person.)
The tour operator - the U.S. based operator if on the trip and/or the local tour operator if he/she is someone that you have worked with before and are likely to work with again. (return to top)
I have a favorite project. Can I use Generosity in Action to support it?
Yes. Some tour organizers have identified a specific project that they plan to visit and intend to make a donation on behalf of the company. Travelers can also donate to that project using Generosity in Action by you in one of two ways:
travelers can give you checks made payable to "Generosity in Action" which you bring back and send to PVF. In this situation you may wish to advance the funds to the project, get a receipt and be reimbursed by PVF when you send in the checks.
travelers can write a check to "Generosity in Action" indicating the project and mailing it to PVF. Once Generosity in Action is advised of the donation the funds can be forwarded to the project through the tour operator. (Confirmation that the funds get to the project and that they are properly used will be required.)
Tour operators will find of interest the Bushtracks example and flyer distributed to guest while on a tripas well as the example of a flyer distributed to travelers on the upper Amazon when test books were delivered to a village. A Word file for this document is also available.
(return to top)
How can travelers participate?
Travelers can give you cash on the spot. You will need to maintain careful records and determine how/where you will put that money. (We suggest that you do not accept any funds until you have thought through these points.) Note: cash payments will NOT receive confirmation of being a tax-deductible donation.
Travelers can give you a check payable to "Generosity in Action" that you will bring back and forward on to Philanthropic Ventures Foundation. (You may chose to advance this money to the charitable project while on the trip and be reimbursed by the Fund. In this case, be sure to get a receipt for the expenditure. This is needed to document that the funds have gone to a proper charitable project.)
Travelers can send a check to Philanthropic Ventures Foundation payable to "Generosity in Action" or to "Philanthropic Ventures Foundation" with a note on the check that it is for the "Generosity in Action Fund" and include a note indicating whether their donation is intended for a specific project. However, if they elect to do this, you should not count on those funds in any calculation that you do on the spot concerning the current project.
Click here for sample donation form.
(return to top)
Is the traveler's donation tax-deductible?
We are fortunate to have arranged with Philanthropic Ventures Foundation to have a Designated Fund established to receive monies from donors. The fund can be used to pay for activities we determine are of a charitable nature. Passengers will receive a letter from PVF confirming that their donation is tax-deductible.
Checks can be made payable to "Generosity in Action" and sent to the Philanthropic Ventures Foundation. PVF will receive the funds, assign them to the Generosity in Action account and provide a receipt and confirmation to the donor.
PVF is a 501(c)(3) public charity located in Oakland, California, dedicated to expanding philanthropy and working with donors to maximize the impact of their charitable giving. For more information you can refer to their website at www.venturesfoundation.org.
Philanthropic Ventures Foundation
1222 Preservation Park Way
Oakland, CA 94612-1201
ph 510/645-1890
President: Bill Somerville
Donations can be earmarked for a specific project. We will be sure to acknowledge that it is and that the person making the donation receives confirmation and status of the project. (return to top)
What are the administrative costs to manage the projects?
Generally your organization and the local tour operators will provide the staffing and management of the overall project at no cost. Philanthropic Ventures Foundation has a 2% fee when receiving funds and a 2% per annum maintenance fee. No other expenses are expected. (return to top)
How will the funds flow to the country?
If we have an easy mechanism to send money to that country by check from the U.S., we will likely send the funds through our in-country tour operator.
If transferring funds to that country is complicated, you will have to leave money in the country before you depart. If you have checks from travelers payable to the Generosity in Action or Philanthropic Ventures Foundation you will need to look for ways to advance that money to someone in the country whom you can absolutely trust. (return to top)
What are my responsibilities if I take on a project?
Control, control, control!
You will have to think through how the money will get into the country.
If it goes to the tour operator, you will need to be assured that he or she is trustworthy and that the funds will go ONLY to the project in mind. (Generally, if the tour operator is someone that you or your based tour operator uses frequently, he or she realizes that failure to handle the funds properly will jeopardize future business from the U.S. You are welcome to point out that Generosity in Action works in close cooperation with many other educational travel organizations such as American Museum of Natural History, Smithsonian Institution, World Wildlife Foundation, Stanford, Harvard, Yale, University of California, etc., and that they all share information.)
If you have to leave money with a guide, the same sort of control that is mentioned for the tour operator applies. Certain guides, like Kyaw Soe in Burma or Mr. Cong in Vietnam whom trusted operators have used for years, can be trusted implicitly. Others, you will have to evaluate. If you are hesitant, do not proceed.
From experience we have found that using a proclamation or other very public presentation of the funds to the village leaders is effective; it provides a vehicle for the locals in the community to both be aware of the gift and to apply pressure on the elders to get the project completed.
You should write up the project with descriptions of who, what, when, where so that anyone asking what we are doing will have his questions answered. If any donations are paid through PVF, it is particularly necessary for you to have documentation of the project in order to be reimbursed and to write thank-you notes. (return to top)
Some thoughts for your consideration.
When money passes through many hands across rich/poor and national lines, many things can go wrong. We're trying to reduce the chance of this happening by being business-like and involving the key actors from the start. Specifically, this means including in the planning and implementation of the project someone in authority from the village (or the school, if it's school supplies), who will then take or share responsibility for it. (Put differently, if the key authority figure is not included, he is likely to feel bypassed and humiliated and may do what he can to sabotage the project.) The tour operator's local rep makes the call on who this person is, but the call should be made. What you'd have is a mini-committee with the authority to decide what's to be done and to spend the money on it.
Where a small infrastructure like a well is being constructed, it's crucial before anything starts, to come to an agreement about its maintenance with someone or some agency. Once the well is dug and a brand new pump is installed, who is going to keep it functioning? Who pays when repairs are needed and when eventually a new pump has to be installed? Failure to maintain infrastructure is a huge reason for failure in aid programs. This second point reinforces the first: at some point a local government agency or a branch of the central government may have to be involved on the maintenance side, perhaps using public funds. So start early by including someone from the relevant agency. If, on the other hand, this will all be run outside the government's purview, it should be clear in advance what organization will do maintenance and repair and cover those costs.
Think about transferring money in several segments, e.g. when part A of the project is done, 10% of the money is handed over; when B is done, another 20%, etc. This is how World Bank structural adjustment loans are handled. The idea isn't that recipients are inherently untrustworthy, but that both sides' interests are protected if there are signs, visible to both, that progress is being made along agreed-upon lines. (return to top)
I have read all of this and wonder if it is really worth it.
If you think that there is a need and there is enthusiasm from travelers and faculty then it is probably worth doing. And, just think of your personal satisfaction from knowing that you did help people in another country who are not as well off as we are. A Stanford professor summed it up well, "You are the link between some of the world's wealthiest people and the world's poorest people." That alone makes the project of value.
Can I set up my own travelers' philanthropy program and work directly with Philanthropic Ventures Foundation? Yes. If your travel program wants to have a community support program, you can work directly with Philanthropic Ventures Foundation. Your program does not need to go through GiA; however it is suggested that you first email Duncan Beardsley at info@GenerosityInAction.org to review some of the controls that are necessary for a successful program. (return to top)

Further questions? You can email Generosity in Action at info@GenerosityInAction.org