.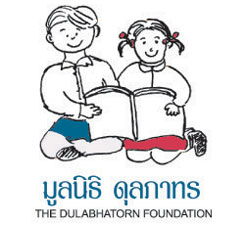 The Dulabhatorn Foundation helps poor children and young people become educated responsible citizens, by helping to assure access to educational facilities through provision of what they need to study: tuition, books, school uniforms shoes, housing, and transport. We have a broad view of 'education.' It can mean school-based study, non-formal education, vocational training, or experience-sharing among teachers, parents or caretakers. As resources permit, we will support university or teacher-training for poor but promising young people, especially if they intend to teach in remote or deprived areas. Because of our location, we often work with ethno-linguistic minority populations, the so-called 'hill-tribes' of northern Thailand.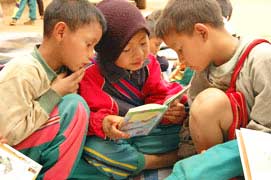 Vision and Focus
The Dulabhatorn Foundation promotes high quality education for poor children and young people in Northern Thailand, focusing on those who "fall through the cracks." Integrated with supplementary life skills training and support mechanisms, we aim to:
1.Help develop a better educated and informed rural population by
2.reducing poverty and discrimination and
3.developing human potential and advancing the capacity for achievement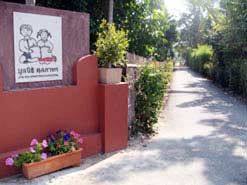 "Dulabhatorn" is a word coined by Her Royal Highness Princess Maha Chakri Sirindhorn. It is pronounced "dtoo-la-pa-torn."
The word derives from three Sanskrit elements which might be translated as, respectively, "justice" or "equity," "light," and "caring." The insignia, a drawing of two children sharing a book, was created for the foundation by Princess Sirindhorn.

.
We have three areas of focus:
1.Access. Every society in the world is challenged to create and support appropriate education for all its members, including those who are poor and otherwise disadvantaged. An educated society is an absolute requirement for political, economic and social development.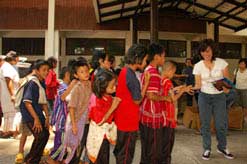 While students in Thailand from affluent families attend luxurious schools with excellent facilities, many children are unable to attend even a local bamboo classroom because they must help their families work, or because they cannot afford shoes, pencils, books or transport. We believe that these gaps need to be narrowed. We are working to provide basic educational opportunities to the poorest children and adolescents. Many of the poorest children in the North belong to ethnic minorities and are therefore further disadvantaged because of the inaccessibility of their home villages, their languages and customs and social discrimination.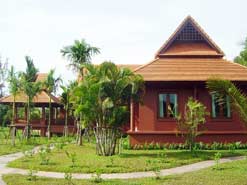 2.Learning disabilities. We have a particular interest in children with special needs. At the moment, services for such children are seriously insufficient. It is our ambition that all children with special educational needs reach their full potential in school, make a successful transition to adulthood and the world of further education, training or work. We aim to assist those children who live in low income homes, demonstrate characteristics of a possible or diagnosed learning disability, and who may not be receiving appropriate tutorial services, We organize occasional support meetings for families and caretakers to assist them in understanding learning disabilities and advocacy strategies. There is a general lack of resources available either from the government or from non-governmental organizations to address this very significant problem.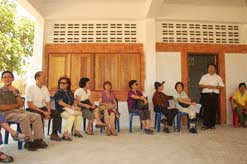 3.Early childhood education. Pre-school education is often simply a baby-sitting service. The enormous potential of very young children, especially poor children, to learn is frequently neglected. We aim to support individuals and organizations working to improve the quality of the pre-school experience. One way to do this will be to support a network of pre-school teachers interested in discussing their experience and learning innovative techniques for developing the learning potential of their young students.
OR VIA THE INTERNET

You can make a donation to the The Dulabhatorn Foundation via the internet. Click here.

Once at PVF Donate page click on the"Generosity in Action" button and put "Dulabhatorn" in the Further Designation box.

Note: there is a 3% transaction fee to cover credit card fees, bank fees, and other processing costs.

Return to Home Page
For additional information on the Dulabhatorn Foundation
please visit http://www.dulabhatornfoundation.com/
The Dulabhatorn Foundation
500 Moo 4, Tambon Sansai Luang
Amphur Sansai
Chiang Mai 50210, Thailand
Donate to the The Dulabhatorn Foundation
BY MAILING A CHECK
Make checks payable to "Philanthropic Ventures Foundation " and note on the "memo" line - "The Dulabhatorn Foundation"
Mail donations to:

Philanthropic Ventures Foundation
1222 Preservation Park Way
Oakland, CA 94612-1201
Philanthropic Ventures Foundation/Generosity in Action is a qualified US tax-deductible 501(c)3 foundation. Click here for more information