EDUCATION IN RWANDA
Rwanda has made great strides since the unspeakable horrors of the genocide of 1994. Although the healing process is ongoing, Rwandans have shifted their focus from ethnicity and divisiveness to unity and integration. Looking towards the future, Rwandans are now committed to reconciliation, unity and patriotism. Recognizing that education is the key to Rwanda's continuing socio-economic development, the government is committed to providing fee-free universal primary education by the end of 2010.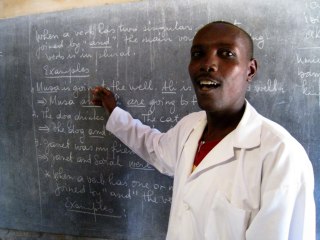 While school fees for primary education have been abolished, non-fee based barriers to education persist as schools are under-funded. Parents are typically asked to contribute to help cover the cost of school uniforms and educational materials. Children of parents who are unable to contribute financially to their education are still being under-served.
English is being introduced as the language of instruction from primary grade 4 onwards, yet there is limited availability of English-language educational materials. In addition, not all children are able to buy school uniforms. The "Virunga Primary School Project" will fund the purchase of English-language educational materials and school uniforms for local primary schools.