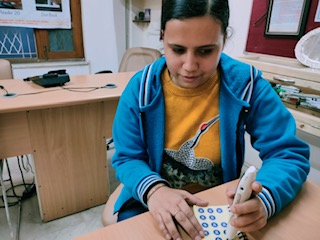 Saksham -
60 million people across the country of India cannot read normal print due to visual, cognitive or physical disabilities - vision impairment impedes everyday functioning. Not all people with visual impairment are identified or diagnosed at birth and loss of vision can affect anyone at any age for a number of reasons.
Saksham
Saksham (www.saksham.org) has worked to enhance the lives of 25,000 print disabled persons over the past 13 years through the production and distribution of books and reading material in accessible formats for persons who cannot read normal print due to visual, cognitive or physical disabilities.*
* Saksham is a founding member of the DAISY Forum of India - a network of not for profit organisations involved in the production of books and other reading materials for persons with print disabilities including blindness. It is a network of more than 194 organisations working in different parts of India for the welfare of visually impaired people.

Read about Reading Tools available... Click Here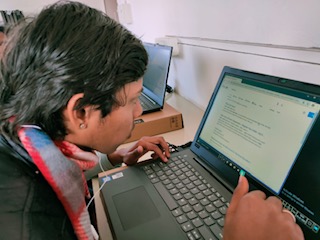 Successes:
Health
On an individual basis, Saksham has enabled people with low or no vision to have equitable access to education, employment and social integration. This has been achieved through:

* Developing individually tailored programmes, working with clients and their families and carers to ensure a sensitive, outcome focused intervention that matches the need of each person; that allows blind children to be seamlessly integrated in regular government schools and universities.

* Setting up DAISY India Library- a national level repository and distribution platform for books in accessible formats. It is the one stop source of accessible books in India for persons with print disabilities. It integrates all accessible books produced in India as well as the complete collection of Bookshare - the world's leading accessible library for the print disabled;

* Advocating at government/state/federal level to ensure all persons with print disabilities in India will now have their right to read using an appropriate and relevant format.

* Working tirelessly to ensure that people with vision impairment are included in society through ensuring as many children as possible are supported in mainstream education; visually impaired people are aware of the services that the DAISY Forum of India offers; and through an innovative approach to training, ensuring that the evidence based practice of the Forum is cascaded to as many people as possible who work to support people with visual impairment.


Try to imagine...
... you are in a room, with no light and you may have the added disadvantage of having no ability to hear any sounds.

In your mind you know what you would like to do but no one is there to help. Imagine that instead of you being in that room, it is your child, your mother.

You know that the DAISY Forum of India through Saksham could help. What would you do next?

Please help all those people who know of our services but can't afford to access them. The people who are having to wait because of the huge demand.

Please help us to also reach the other millions of people who are simply leading a life that we cannot imagine.

Join US!

Donations made in the US are handled by
Generosity in Action and are fully tax deductible.
Generosity in Action is designated fund at
Philanthropic Ventures Foundation
a qualified US 501(c)(3) public charity.