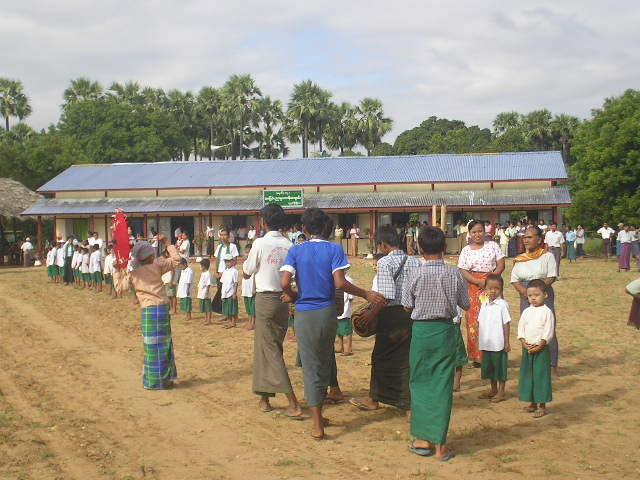 Pyaw Bwe Village Primary School
150 students - 4 teachers
Update November 2007:
Report from our representative in Yangon, Burma
"The school handing over ceremony was held on 22 Oct 07. The whole village and students turned out in force for the ceremony. Representatives s of the Education Ministry for the Bagan District and village elders and administrative authorities for the village spoke. They profusely thanked the donors ... and expressed joy and satisfaction in getting the school. They said that the school benefits not only their village but also other villages nearby -- as all the children (some as young as 5 years) can attend this school without having to walk more than a mile to go to the old school in the monastery. There are 150 primary school children attending this school. The village promised to look after the maintenance and development of necessary facilities.
The school was built according to the Ministry of Education directive for primary school buildings in the area. 30' by 80'. The village treated the guests with food. I did the consecration -- pouring of water while the monks chanted sermons. As before, in my mind, I did it on your behalf and the donors from Generosity in Action.

The cost is within the allotted budget of $8,000. In fact we asked the village to take care of some items that need to be done. I remember the budget was approved two years ago. During that time costs have skyrocketed, but saving grace is that the dollar has appreciated in value against the Kyat. We also did some stringent cost saving measures, like buying timber and bricks from cheaper sources and asked the village to contribute more in terms of labour and feeding carpenters and masons, etc. I must say the village cooperated very well with us. This village subsits on cultivation of groundnuts sesamum and other crops. Of course they cannot afford to build a school building costing Ks one hundred lakhs. (Lakhs is generally used here, one lakh is one hundred thousand.)"
Pyaw Bwe School Dedication October 22, 2007
Special thanks extended to Generosity in Action

A couple from the U.S. was visiting Burma at the time of the dedication and took some photos in the Pyaw Bwe Village and the dedication which she was able to bring out of the country. She has been kind enough to send them to me for posting on this site.The following comment came from the photographer: "the pix are of the opening ceremony. The group photo shows teachers, administrators, local bigwigs in front of the building.
The kids are dressed up for the occasion. some children did not attend because they can't afford uniforms--broke my heart!"