Ngoko Village - Stacie's Birthday Fund.
We are pleased to establish a "Happy Birthday Stacie" fund to receive any donation you would like to make to honor her birthday. Stacie is a loyal supporter of Lesedi School & Clinic, located in a rural community in Zimbabwe, and we are delighted that she has again chosen Lesedi as a recipient of her birthday fund.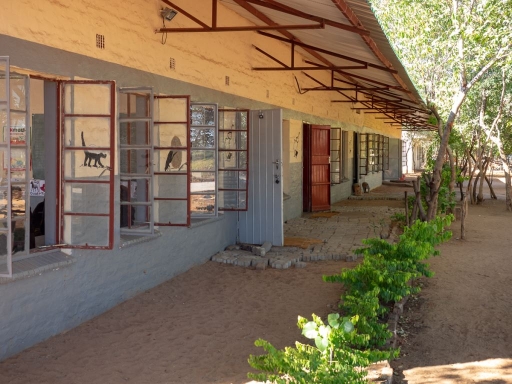 Lesedi Primary School
The Lesedi project began in 2014, when Benson Siyawareva, one of the founders of Ngoko Safaris, got involved with the local community and realized that many of the local children were dropping out of school, due to the long distances they needed to walk each day and the danger of wild animal attacks en-route. He decided to try and make a difference, starting work on an ambitious plan to establish a Primary School in the community.

Roll forward to the present day and Lesedi Primary School is currently teaching two pre-school classes, plus Grades 1-6, to over 220 pupils. A registered UK charity, the Ngoko Charitable Trust was established in 2015 to support the development of the school.

Last year we established a sponsorship scheme at Lesedi. Sponsorship covers school fees, uniform and two hot meals each school day (the cost is $25 per month). A contribution is also made into a welfare fund, enabling us to arrange medical care and ongoing treatment for pupils with serious health issues, who otherwise wouldn't even be seen by a doctor. At the time of writing, over 160 of our Lesedi pupils are now sponsored.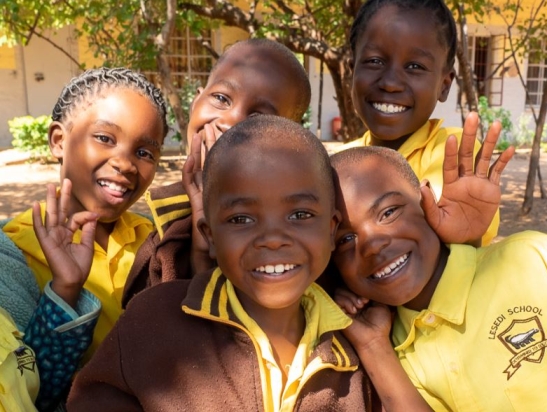 Future Plans
Our major project this year has been construction of a medical clinic at Lesedi. There is a high incidence of HIV and AIDS in the community, including some of the school children. The nearest public clinic is 28km from the village, and transport costs are unaffordable for most. Last year Stacie's birthday fund supported the construction of a clinic, and we are pleased to report that the clinic will be opening in the next few weeks. Thank you to all who donated last year!

The clinic will enable access to regular life-sustaining ARVs, along with other medical care that is so desperately needed. The main structure includes a couple of delivery rooms, and we have also built a waiting mothers' cottage so that expectant mothers can be accommodated locally whilst awaiting their due date, ensuring that they give birth at the clinic rather than at their rural homes.

Our initial plan was to hand over the clinic buildings to the Ministry of Health & Childcare, however given the dire economic situation in Zimbabwe, the government is not in a position to provide equipment or medical supplies. We have funded the initial equipment required for the clinic to become operational but now also need to supply medical consumables, requiring a substantial initial financial outlay.

Stacie's Birthday Fund
The purpose of Stacie's birthday fund this year will be to help fund the purchase of these vital medical supplies for the clinic. 100% of the donations we receive (after payment processing fees) will be spent directly on the purchase of medical supplies, so your donation will be making a difference where it is needed most.

Progress at Lesedi has been remarkable since we began this project. Hope is being restored in the community and the children are daring to dream. There is a long way to go but together we really are changing lives, and with the addition of the clinic we will also be saving lives.

Please follow our progress on Facebook (these updates can also be accessed from the school website at www.lesedi-school.com/news).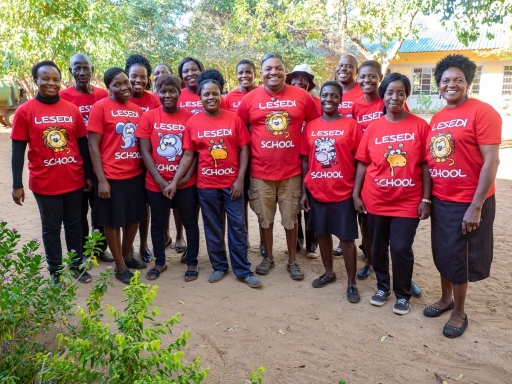 You can make a donation to the Ngoko Village Project via the internet. Click here.

Once at Generosity in Action Donate page click on the Ngoko Village Clinic - Stacie's Birthday Fund button. Note: there is a 3% transaction fee to cover credit card fees, bank fees, and other processing costs.

Return to Home Page