Community project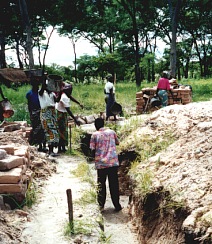 Kasanka is located in the Kafinda area, under the traditional leadership of Chief Chitambo IV. It was this Chief's great grandfather who received David Livingstone on his deathbed, and a memorial stands today near the park marking the spot where the explorer died. About 100,000 people live in the area and survive by subsistence farming. The predominant crops are millet, cassava and groundnuts, many of which are cultivated using traditional slash and burn farming techniques known locally as 'chitemene'. Whilst some people keep goats, pigs and chickens, fish, either locally caught or traded is the main source of animal protein.
The Kasanka Trust Community Project is dedicated to reducing poaching in the area by providing sustainable alternatives. The project promots more sustainable forms of agroforestry over the 'chitemene' system of farming and teaching alternatives to increase the amount of protein available. Villagers are also encouraged to seek income through activities such as craft making, vegetable gardening and chicken, rabbit and goat rearing.
Most importantly the local community is being encouraged to develop income-generating projects through sustainable use of their natural resources including wildlife, fish, timber and other forest products in the Game Management Area outside the national park. The area now has eight resource committees reporting to a central Community Resources Board for the Chiefdom.
Kasanka Trust supports the Community Resource Board by giving it 5% of its tourism income (more than 10% of tourism revenue) from Kasanka. This helps the community see a direct benefit from every visitor to the park and provides funding for small community projects
Health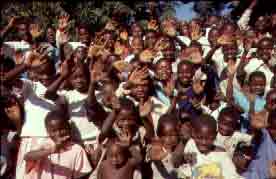 The most ambitious community development project of the Kasanka Trust was the founding of a new Rural Health Centre at Chalilo, just north of Kasanka. The work was carried out by members of the local community for just some small allowances. Materials were supplied through a grant from the German Embassy and the States of Guernsey development fund who also paid for all the equipment in the clinic.
By the end of 2002 the Chalilo clinic building was completely finished and equipped. There was a handing over ceremony in July 2002 at which the German Ambassador attended.
Kasanka currently supports the clinic with a salary of Traditional Birth Attendant, fuel and extra medicine.
How can you help?
By making a one time donation or establish regular contributions you can join the fold of Kasanka Trust supporters. You will receive regular newsletters to keep you up to date with what's going on and you will be especially welcomed should you find time to visit the park.
Suggested donations:
$50 per month to sponsor a student to secondary school or $7 per month to sponsor a student to basic school. This includes school fees, school requirements such as uniform, books and tuiton fees. You will receive pictures, school results and letters of your student.

$200 for a local schools or community group to visit Kasanka National Park. A lifetime experience and effective way to raise conservation awareness.

$140 per month to sponsor a teacher's salary in a community school. You will receive pictures, school results and letters of your student.
One time donations to any of the projects
Kasanka Trust is a registered charity. U.S. Donations can be made through Generosity in Action.