In February 2009 the girls and their parents met with Namgay and Dorji to discuss what it will mean to the girls as well as the community for them to attend school. At the same time the girls were provided with needed materials so that they could attend school. These are some pictures that came from that meeting. (The two senior girls at the higher secondary schools outside of Thimphu and so did the school shopping independently and were not at this gathering.)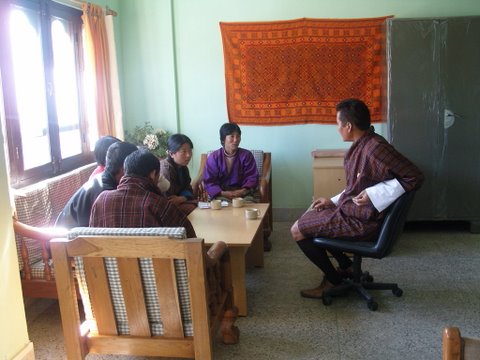 Funding has been granted to provide the necessary materials for six girls to advance their education for the next four years. We would like to be able to assist more girls and provide for additional years. Donations to Girls Too will provide that opportunity.
Four girl students were selected who were interested in school and extra curricular activities and brought good grades but were at the risk of dropping out of school owing to family reasons
In addition two girl children who only had a single parent, keen learners but again were at the risk of dropping school because the parent was not able to meet the schooling expenses limited to school uniforms, school books, beddings & toiletries, travel expenses and boarding fees.
Dorji calledl the girls to Thimphu and spend a day shopping for school uniforms and necessities as outlined in the plan & budget. This way Namgay and Dorji are able to teach them the importance of budgeting, buying only what is important and necessary and keeping account of expenses so that from 2010 they will know how the system works. She also showed them around Thimphu, invited them to lunch ather home, introduce them to her children and also took the girls to visit places in Thimphu.
Go to Chorten Nebu Monastic School
Go to Shari Pankha Monastic School
See photos of girls 2010
You are encouraged to go to Namgay and Dorji's Facebook page for more photos.
Return to Girls too page
Return to HomePage
Tax deducible donations to the Girls Too Project can be made by check payable to "Generosity in Action" and mailed to:
Philanthropic Ventures Foundation
1222 Preservation Park Way
Oakland, CA 94612-1201
Be sure to indicate that the donation is for
the Girls Too Project.
Donate via the internet...


Once at Generosity in Action Donate page click on "Girls too." Note: there is a 3% transaction fee to cover credit card fees, bank fees, and other processing costs.