Shortly after Cyclone Nargis hit the Irrawaddy delta of Burma May 2nd two travel organizations that Generosity in Action has worked with for a number of years asked if we could collect funds for them to distribute to help the local people. We were happy to do so. Below you will find segments from emails received from them. If you wish further information, please email me at duncan@GenerosityInAction.org

Generosity in Action will continue to accept donations that will be forwarded to the individuals who wrote these emails for them buy and distribute aid. [As of 9/26 we anticipate that further funds will go to repbuilding schools in the area and for plowing equipment as described in later reports.] (Details on dontating below.)
To date Generosity in Action has received $7,500 in donations that have ben forwarded to these operators.
Their reports follow.
Learn of the scale of the devastation - pg.2.
Note: there are now 16 pages of emails reporting on aid delivered by the the local people. The higher numbers are the more recent reports. Click on the page numbers listed to the right.
Click here for the most recent report - Page 16. This is a report on the construction of a school destroyed in the cyclone.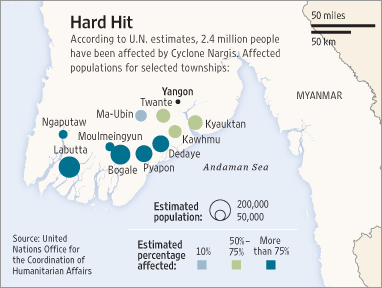 Map from Wall Street Journal internet site (full story)
Received May 14, 2008
"We have the staff and many young people including tour guides we regularly use to buy the relief goods here, hire the cars and go to the affected areas as well as the outskirts of Rangoon to personally distribute the items. This everyone finds is the most effective way to do this. And it will need many more days or months to continue with this kind of help. Even now we hear of incidents where cars carrying these relief items are turned back.

It is a disgrace and heartbreaking to say that relief items brought into the country by US & UN and other agencies and countries have not reached the victims and some are being sold in the streets and in supermarkets. You will get all these news from all the international media. We also have to depend on detail info on Burma language broadcasts from the US & British radios.

Pl reply how we can go ahead and I shall be grateful to get your advise and your views.... If I have to do this I want to do this responsibly and with complete transparency. This is why I suggest donations there GIA.

Life is still hard in Rangoon. In some areas electricity or phone lines have been restored. In our area nothing done yet. We cook with charcoal and luckily water from the big reservoir supplying the city reach our area. Each household use own generators to get water to rooftop tanks. Gasoline prices have now dropped to a level just above pre cyclone prices. But foodstuff and rice and cooking oil are still at least twice the original price."
May 17
"Latest is that friends say even Burmese people who carry relief goods to the affected areas are denied access and are being turned back. Also curfew imposed in these areas dusk to down. With more heavy rain falling people are really suffering. But people are trying every way they can to get the items to the area. Learnt the all foreigners are denied access to the area. But this relief and resettlement effort is going to be a long term endeavor and we will save as much as we can towards fulfilling that prospect."

Tax deducible donations for Cyclone Relief can be made by check payable to "Generosity in Action" and mailed to:
Philanthropic Ventures Foundation
1222 Preservation Park Way
Oakland, CA 94612-1201
Be sure to indicate that the donation is for Cyclone Relief. (If you know the specific individual include his ititials.)
There are no administrative charges for donations made directly. 100% will go to Burma relief!
You can donate via the internet - click here:



Note: Once at PVF/Donate page, locate the section "Designated Funds" - click the button for "Generosity in Action" - and specify "Cyclone Relief" in the text box."
There is normally a 3% administrative fee for internet transactions. GiA will cover the administrative fee on the first $5,000 of internet donations for Cyclone Relief.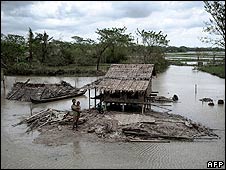 photo from BBC.com
There are now multiple pages of reports from Burma.
This is page one. Click below to go to other pages.
Page 2, Page 3, Page 4, Page 5, Page 6, Page7, Page 8.
Page 9, Page 10, Page 11, Page 12, Page 13, Page 14, Page 15, Page 16.
Received May 13, 2008 This report is from Kyaw Soe - owner of Arcadia Travels in Rangoon.

"... I've just finished my volunteer work. It's been three days I've been with them and what I've seen just in the shanty areas in the outskirt of Yangon is pretty bad. Small huts of bamboo and thatch roof all or partly blown up by the cyclone are quite a sight. What shocks me more are kids and women who has to survive in the rain without any help from the authorities. The authority doesn't help but kick them out of the camps which are community prayer hall or monastery or public school building. One of them from a monastery camp told me on 13 May that they are ordered to leave this camp the next day. The authority gives the excuses as inappropriate scene at the religious edifices because these people are in ragged clothes and dirty the place. Some of them came near me and murmured that they have no place else to go but roofless home with intermittent rain these days. We provided the camp with some rice sacs, lentil sacs, edible oil and salt for them.

Save the Children had to get the permission from the township authority of Insein township where I have signed up. So when we go into the quarters we have to visit the authority office of the quarter and talk to the authority that we are from Save the children. Suddenly they would ask if were are from one of the associations of the government because they don't understand the very English words our leader said "Save the Children". So the leader would have to take the magic wand paper out and showed him that we get the permission from the township authorities. Once they see the seal they would start to respond and asked what we want. We said we need the names of the households whose houses were distroyed by the storm.

At this moment I need to explain about (another) organization ... They are everywhere ... doing a great work ... So everybody in the shanty towns know them and these people know the area. They have a list of victims whose houses are destroyed. We have picked them up in the morning we have that list. So we know who's who but the list the authority provides have some more victims who are the relatives of the members of authority. We all have to turn a blind eye on those names and let them be in it. If we denied them they will deny us to distribute the aid. Pretty terrible isn't it?
We have to leave some of the rice sacs and edible oil last night for we cannot carry any more in the truck with people and part of the aid. So the leader has the paper work with the authority with the list of aid we have left. All of the members agreed and counted the sacs (13 rice and 7 lentil) and 10 buckets of peanut oil. This morning one was morning and we claimed it. They said they have it there as it is and they don't know. Such a daylight robbery! ... said they will square it away with Jesus. There are altogether 530 families (5 members at each family in average) whose houses were destroyed. We almost have done the distribution process today. My heart sank when I see people are queuing in front of the authority office for the whole day for their names to be called. My arms ached for scooping rice (4.5 pounds each family) into plastic sacs and some sarongs which are used for packing rice for they don't have any sac. Our water bottles become containers for carrying edible oil (800 g apiece). I saw some kids in line and some mothers holding a few month old kids. We donated good water for four days by asking a one local by hiring a generator to pump the water up at one house which has pump. There are three points people can fetch the water for free. When I went there with the leader for inspection the alley ways are just flooded with dirty mud which is just a few feet away from their door steps of the houses each of those are 10x10 ft in average. There are mosquitoes at night of course.
My buddy group is not going to do the way they do. We will try to avoid the authorities as much as possible. I have just talked to one of my buddies during this report on phone. We will be heading to ..., one of the key areas where the cyclone hit on Sunday early in the morning and we will stay there one night. My job is to give health education for paying attention to cook food cleanly as much as possible not to be resulting in cholera outbreak. I need to use the local colloquial and I know those quite well since I'm itinerant around the country.

So wish us luck for the success. I'm so glad to be a cog in the wheel."
Follow up message May 16.
"I'm so glad to hear from you. I've just come back from the volunteer work. I had quite a hectic day too. Today I had to handle pouring the peanut oil with a mug into empty plastic water bottles through a sooted plastic funnel hired from a house in the community. We could passed down some 347 pieces of tarps in that area. Each piece measures 4x15 feet and passed onto each family whose house is blown up and destroyed. We did it in each section of the area. They were very happy to have those.
On Sunday my buddies and I are going out to ... for one overnight and we have some medicine, mosquito nets and blankets... plus loads of hand-me-down clothes from all over. We are going to have some tablets for purifying water from a medicine company. We have to keep our eyes opened and look out for what is best we can do for the survivors."
May 17
"I'm preparing for my trip tomorrow. My wife and I have picked up some two hundred blankets from my buddy's place. We had packed each of those in the plastic bags to avoid getting drench from rain so that the survivors can use those straight away after we passed them. I'm sure I will have many things to report."
Further emails are on the following pages

Click here to go to Page 2, Page 3, Page 4, Page 5, Page 6, Page7, Page 8. Page 9, Page 10,
Page 11, Page 12, Page 13,
Page 14, Page 15
Return to Home Page